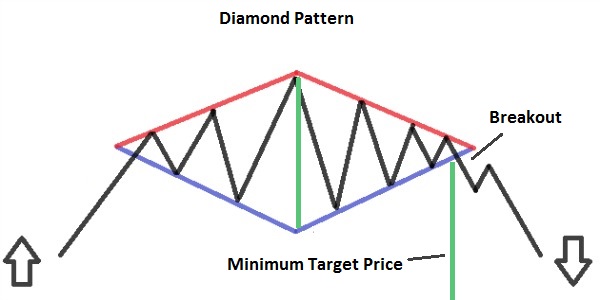 Let's analyze now the Diamond Pattern, another Pattern of the Technical analysis. The diamond is a Reversal Pattern and is rare Pattern. Let's analyze it point by point. Remember, that in order to understand better the Patterns of technical analysis, you should know how the Trend Lines and Resistances/Supports work (For this reason we suggest you to read: What is a Trend and what are Trend Lines; Resistance and Supports).
Features of the Diamond Pattern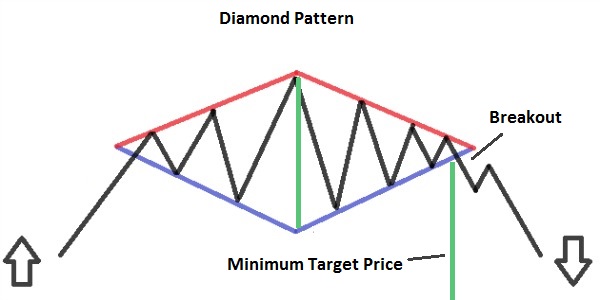 – When it occurs: occurs during an Uptrend or Downtrend.
– Pattern composed by: It's a very particular Pattern, because it's composed by two Patterns: A Broadening Formation and a Symmetrical Triangle.
– The first part of the Pattern, is characterized by Higher Highs and Lower Lows (There is an expansion in the Prices).
– The second part of the Pattern, is characterized by Lower Highs and Higher Lows (There is a contraction in the Prices).
– The Pattern is recognizable for its similarity to a diamond; as usual, to be sure if it is a Continuation or Reversal Pattern, you should wait for the Breakout and for a confirmation that follows the Breakout (As a Pullback; or a confirmation from an Oscillator or a Candlestick Patterns).
– Minimum Price Target: you have to measure the maximum width of the diamond, and then project it from the Breakout point in the direction of the Prices.
The Trading Online Guide, strategy to earn with Binary option and Forex Trading online.