Index of Candlestick Patterns
In this page, there is the Index with all the Articles written about the Candlestick Patterns. In this way, it will be easier for you to browse the Articles about the Candlestick Patterns and to find the articles that you want to read. You have only to click on the link of the Article that you want to read, to go directly to the Article chosen. Moreover we have put the articles in a suggested order for your reading: specially if you are a novice Trader, we suggest to you to read the article in this order.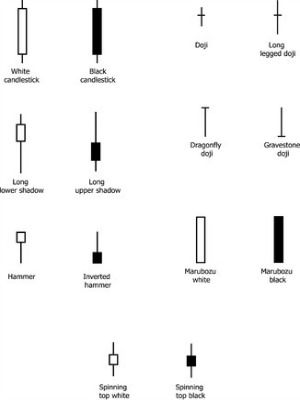 We suggest you to read the introductory article to the Japanese Candlestick Chart, before you start reading other Articles about the Candlestick Patterns; so that you will better understand all the other Articles related to Candlestick Patterns.
Here the Index of all articles related to Candlestick Patterns that are on our website:
Introductory Articles
Japanese Candlestick Chart
Heikin Ashi Chart
Numbers and Other
A
Abandoned Baby Pattern
Above/Below The Stomach Pattern
Advance Block Pattern
B
Belt Hold Line
Breakaway Pattern
C
Collapsing Doji Star
Concealing Baby Swallow
Counterattack Lines Candlestick
Cradle Pattern
D
Deliberation Pattern (Or Stalled Pattern)
Dark Cloud Cover
Dragonfly Doji
Doji Star Pattern
Downside Gap Three Methods
Dumpling Top Pattern
Downside Tasuki Gap
E
Engulfing Line and Last Engulfing Line
Evening Star Pattern
F
Fry Pan Bottom Pattern
Falling Three Methods
Falling Window
G
Gravestone Doji
H
Hanging Man Candlestick
Hammer Candlestick
Harami Pattern
High Price Gapping Play
Homing Pigeon
High Waves Candlestick
I
Incomplete Dark Cloud Cover
Identical Three Crows
Inverted Hammer Candlestick
J
J-Hook Pattern and Inverted J-Hook Pattern
K
Kicking Candlestick Pattern
L
Long Legged Doji
Low Price Gapping Play
Ladder Bottom and Ladder Top
Ledge Pattern
Long Line Candle and Short Line Candle
M
Marubozu Line and Opening/Closing Marubozu Line
Mat Hold Pattern
Matching High Pattern
Matching Low Pattern
Meeting Lines Pattern
Morning Star Pattern
N
O
On Neck and In Neck
P
Piercing Line
Q
R
Rickshaw Man
Rising Three Methods
Rising Window
S
Scoop Pattern
Separating Lines
Shooting Star Candlestick
Spinning Top
Stick Sandwich
T
Three Inside Down
Three Line Strike
Three Outside Down
Three Outside Up
Three Star Doji
Three Stars In The South
Three Stars In The North
Three White Soldiers
Three Black Crows
Thrusting Line
Tower Top
Tower Bottom
Tweezer Top and Bottom
Two Black Gapping Pattern
U
Upside Gap Three Methods
Upside Tasuki Gap
Upside Gap Two Crows
V
W
X
Y
Z
The Trading Online Guide, strategy to earn with Binary option and Forex Trading online.