Aquarium puzzles by Ugears
Mechanical wooden puzzles have recently gained enormous popularity. You can find different 3d wooden puzzles for adults, but buyers made their choice and Ugears puzzles are now at their peak of popularity. Here is one model of which we will talk.
Aquarium mechanical puzzle
In this article, we will talk about aquarium puzzles, which are unique UGears wooden model kits for adults and very popular. And as you may have already guessed, the inspiration for this mechanical puzzle was the most popular hobby – raising fish in aquariums. This hobby has for many years, and it does not lose its popularity. With over 300 wooden parts, you can create your own aquarium, which has a unique design and mechanical component. All inhabitants of the aquarium – fish, seaweed, and seahorse move and rotate. Engineers worked out the trajectories for each fish. Everything looks almost like in a real aquarium. And besides, fish models are mobile by themselves. They mimic the movements of their living prototypes.
In the aquarium you can see
Uniqueness of Aquarium puzzle among other UGears 3d puzzles
It is not for nothing that Ugears has gained such popularity among buyers. Each of 3d puzzles for adults is not only perfectly detailed, but it is also just as accurately modeled in terms of mechanics. And now our considered 3d puzzles for adults have a unique design. Unlike previous UGears 3d puzzles, which were driven by a rubbermotor, the aquarium comes to life by winding a spring. The principle of its operation is similar to the work of a hurdy gurdy – you wind the spring, and it, unwinding, activates the mechanism. And the puzzle will move for 40 seconds.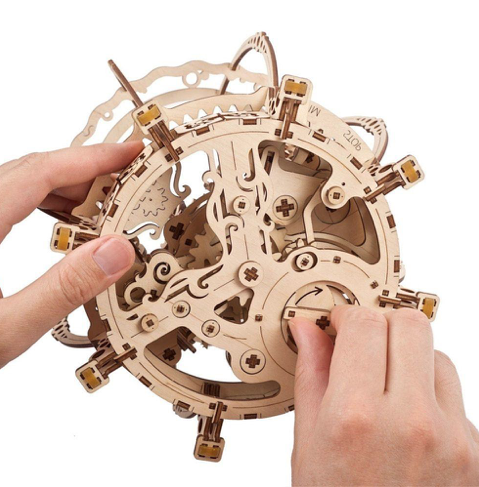 This novelty among our UGears mechanical models will be a real treasure box for a warm family evening or a great decoration for any office. The mechanical aquarium from Ugears is sure to charm and become an original gift for birthdays and other holidays, for any occasion or without.
The Trading Online Guide, strategy to earn with Binary option and Forex Trading online.