6 Tips for Landing a Home Improvement Loan with Bad Credit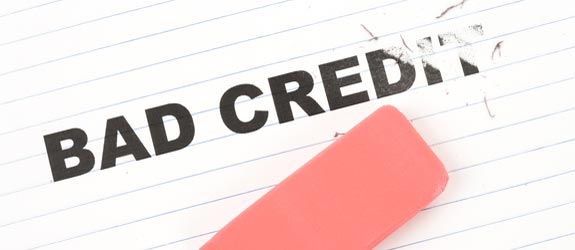 We all know the importance of having good credit, especially when it comes to getting approved for a loan. Having bad credit doesn't necessarily mean that you won't get approved for a home improvement loan, but it does narrow your lender options and often impacts your approved interest rate. If both your home and your credit are in need of some improvement, don't lose hope just yet.
Keep reading for 6 tips on getting approved for a home improvement loan with bad credit.
Use a Co-Signer
Do you have a close family member or friend who has great credit? If you want to get approved for a home improvement loan without having to pay a high interest rate, have someone co-sign the loan with you. A co-signer is simply another party that signs onto the debt. Having someone with good credit to co-sign the loan can land you a more reasonable interest rate and loan terms.
With a co-signer, it's important to note that if you don't make payments, the co-signer is responsible. Be sure that you stay on top of loan payments to avoid negatively impacting the co-signers credit.
Look Into Government Loans
For those with bad credit, government loans are often the top option to consider. The U.S. Department of Housing and Urban Development offers all sorts of programs for homeowners who want to undergo a home rehabilitation or home improvement project. One of the top options is the FHA Streamlined 203(k) loan program. This program allows homeowners to finance up to $35,000 to improve, repair, or upgrade their home.
For those unable to get approved for home improvement loans, the FHA also offers the FHA Title 1 loan. This loan is specifically used for repairing residential property. Be sure to research each loan possibility to determine which option is best for you.
Try a Smaller Lender
Most traditional lenders have strict standards when it comes to credit score, credit history and loan approvals, but thankfully traditional lenders aren't the only option when it comes to landing a home improvement loan. The best way to get a home improvement loan with bad credit is to work with a smaller lender such as a credit union. Smaller institutions tend to be a little more lax on their eligibility requirements for getting approved for a loan.
Look around for local banks and credit unions that may be able to help you. It may also be helpful to research online lenders.
Use a Private Lender
There are all sorts of private lenders that specialize in home improvement loans for clients with bad credit. A private lender is a non-bank company or individual that can provide loans for home improvement costs. A private lender could be someone you know, a friend of a friend, or an accredited investor.
Private loans are beneficial in that they are easy to get approved for and have a fast approval process. If you're in a hurry to knock out your home improvement project, this lending option may be best.
Consider a Home Equity Line of Credit
With a home equity line of credit, credit score requirements are often less rigid because you offer something of value as collateral. With a home equity line of credit, your home is used to back the loan. By providing valuable credit, a lender is in a much less risky situation in the event that you default on the loan. Be aware that a lower credit score will still improve your loan factors, such as credit score and APR.
Repair Your Credit
If all other lending options don't work out, the next best step is to repair the underlying problem: your credit score. For home improvement projects that aren't needed, it may make the most sense to work on repairing your credit so that you can get approved for a quality home improvement loan. While your credit won't be fixed overnight, a few months of working towards a healthier credit standing can be impactful.
To improve your credit standing, know your credit score and history. Get a free copy of your credit report and look through it. Ensure the information is correct. If your credit report is correct, you can work on improving your score. To do this:
Make payments on time
Pay more than the minimum payment
Pay off small amounts of debt
Avoid overusing credit cards
Don't apply for credit too often
By repairing your credit and boosting your credit score, you'll be in a much better position to get approved for a home improvement loan.
Conclusion
Having bad credit can throw a wrench in the process of getting approved for a home improvement loan, but it doesn't disqualify you altogether. Keep these 6 options in mind if you want to improve your home, even with not-so-great credit.
The Trading Online Guide, strategy to earn with Binary option and Forex Trading online.